What happens when you have over 25 people all work remotely for a week? With some of those people not having worked remotely before for any significant amount of time.
That's what we decided to do during our 'Remote Week' at HubSpot, where all four of my teams worked remotely for a week.
I'm personally a fan of remote work. It has provided me with opportunities to work on projects I'm passionate about for HubSpot and hire talented people who didn't want to move to an office location.
Outside of my personal feelings on remote work, just look at how expensive it's become to rent accommodation in San Francisco (image credit).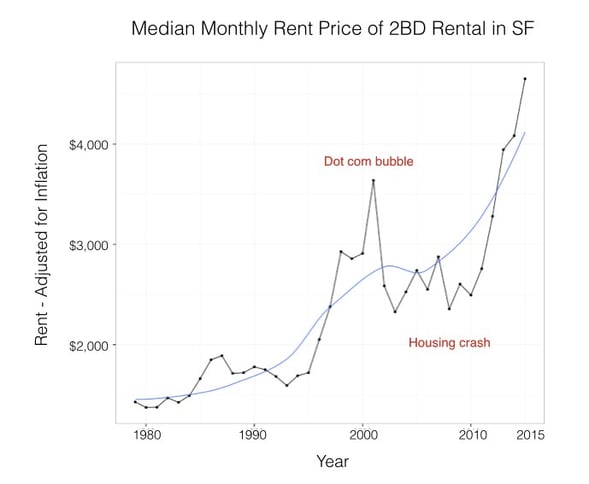 The same trend is true in cities like Dublin, Sydney, and Boston, where there are growing number of people moving for work. With employment opportunities concentrated around a small number of cities, it means everything will continue to get more expensive and your time spent commuting will grow. (As a side note, being stuck in traffic is potentially the thing I hate most in the world).
For growing companies, remote work provides better opportunities to employ talent regardless of location and helps retain talent who decide they want to move. There are people across my teams at HubSpot who I wouldn't have retained if it hadn't been for flexibility around remote working.
In fact, according to research by Mary Meeker's Internet Trend Reports, a flexible work schedule is the #2 most-valued benefit by employees. People want to work wherever, whenever, and however helps them produce their best work. Just look at the Google Trends over the past few years to visualize the explosion of people searching for flexible remote jobs.


Source: Google Trends results for "remote jobs" over past 10 years.
Considering how much employees value a flexible schedule … it's foolish to not give them what they want. Assuming flexible work leads to equal, if not better, results for the company due to increased employee productivity.
However, remote work isn't without its challenges, in particular for companies like HubSpot, which has a large number of employees located across different country offices, and a growing number of people who now work completely remote.
I recently started to speak with companies to learn how I could improve collaboration across people who worked on my teams. After speaking with Wade Foster about Zapier's experiences with remote work (all of their employees work remote), he gave me the idea to have everyone across my team's work remotely for a week. It would help those located in our offices experience some of the challenges people who work remotely experience on a day to day basis so they would pick up ideas on how to better collaborate with them.
For some context, across my four teams, people are located in our offices in Boston, and Dublin with others work remotely in different cities across the globe. I split my time working out of our Dublin office and from home. Near all my meetings are with people in different locations e.g. not Dublin.
Our 'Remote Stack' is primarily made up of Slack, Email, Zoom, Loom, 15Five, and Jabber if we need to do calls. HubSpot meeting rooms are kitted out with Zoom.
The following are some of my thoughts from both 'Remote Week' and managing remote teams over the past two years.
1. Plan ahead for WIFI (Duh)
"Should we just turn off our videos?".
How many times have you tried to do a video hangout with a remote worker and had to utter those words?
(Pro tip: Shutting off your video during conference calls reduces bandwidth which increases the audio quality during calls. This is especially useful when anyone on the call has a poor wifi connection.)
Whether you're working remotely at home, a coworking space or coffee shop, you need to plan ahead to make sure you have good wifi for any meetings you have that day.
Dialing into video meetings with poor broadband is the quickest way to lose trust with people you may be working with who are not remote (working out of your offices).
2. Get disciplined about your schedule
Going into an office can help provide some discipline around your daily schedule. It will typically be near identical to everyone else in the office. From arriving and leaving work, to eating lunch or grabbing a coffee.
Working from home allows you to be a lot more flexible with your schedule, but this brings with it challenges.
A lot of people find it hard to get into work mode when at home. It's hard to separate your leisure time with work time if you aren't used to switching environments.
The other challenge is remote employees will work longer days. It's probably the opposite of what most employers fear will happen. But for those people who work from home, it's hard to not think of yourself as always being in the office and available. In particular, for those working with people in different time zones, you can get into the habit of working multiple time zones.
One of the advantages over your schedule is you can tailor it to how you work best. Two things I tend to try include in my day are:
a. Morning Routine: Between 6.30am and 9.00am - I run through stretches, write for 40 minutes, eat a healthy breakfast and walk my pug, well, I try to :) (this is a real video of me trying to walk my pug!)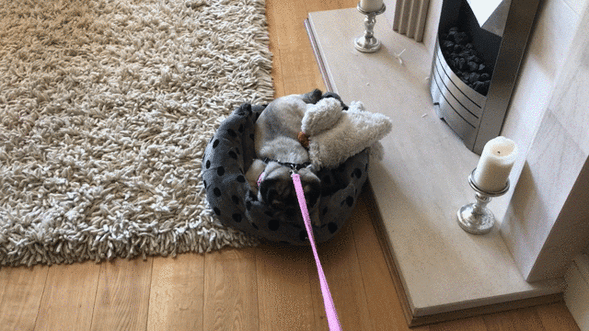 b. Work & Meeting Blocks: I create blocks of time where I can just focus on work, using both the Pomodoro technique (40 mins) and listening to chill hop with use noise canceling earphones to get work done. I block meetings together because it can take me near 30 minutes to hit my flow on a task, I would rather do all meetings back to back then throughout the day with 30 or 60 minutes between them.
Working remotely can help you structure your day around what works for you, but it takes discipline.
3. Remote meetings are different, embrace it
As per above, the perspective I'm writing from is where people work from offices in various time zones and those who are totally remote working out of different cities.
I can tell you the hardest meeting to get right is when you have people located in offices and have others dialing in remotely. We have Zoom rooms in HubSpot, so people located in the office can dial in and be visible on a single screen.
For remote employees, this is one of the toughest meetings to be part off. It often feels as if there is one meeting going on and those people dialed in remotely are spectators.
I've been in a lot of these meetings, and for many of them, it can be tough to get your point across. I've done presentations for up to 20 people who are all located in an office and it's both hard to get a sense of how they're feeling about it and control the discussion around it.
One of the core reasons I wanted to do 'Remote Week' was for this reason, so everyone could experience what it's like for a remote employee who is trying to contribute to a meeting where others are in a single meeting room in the office.
Without a doubt, one of our biggest learnings from the week is that meetings are so much more productive if you make everyone dial in via their own laptop regardless of whether they're in the office or not. If there are remote employees joining the meeting, make everyone experience it the same way.
It's still not perfect, but during remote week near everyone across my teams commented on how much easier it made the meetings, and in particular, for those who were remote, it made it easier for them to contribute.
Another tip to run better remote meetings, one that's helped me a bunch, is to take on the role of a facilitator. Continually ask both the group and individuals if they have any input/feedback, pause the discussion if you see someone who is struggling to get their comment heard.
It can often be harder to speak up when working remotely vs. when you're sitting in the same room as someone. People end up doing the goldfish face a lot; you know the one if you've done remote meetings, you open your mouth about to comment, someone else jumps in, you close it again hoping for another break in the discussion :)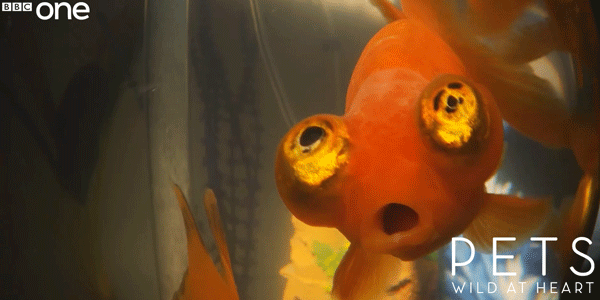 If you see someone goldfishing continually during a meeting, ask other people to pause for a second so they can collaborate and add their thoughts.
Lastly, if you're in a remote meeting and the experience isn't right for you, speak up. Although it's hard at first as you feel you're disrupting the entire meeting, it forces people to think about the experience for everyone.
4. Getting over Management FOMO
Being a remote manager is challenging and something that brings a unique set of challenges with it.
One of the easiest traps to fall into when you're managing people remotely is to create an excessive number of processes and meetings to track people's work. Managers can often feel a certain sense of anxiety around what the team is doing given they can't physically see them sitting at their desks. They over compensate by doing too many regular check ins with the entire team and having them fill out detailed documents around what work they're doing.
It can also be hard to build a bond with the team. You miss those discussions that just naturally happen when people are sitting in the same space and start commenting on an article someone has just read or asking why the f*ck was Ed Sheeran in Game of Thrones. Let's face it, we'll never know!
Most of your interactions with the team become scheduled meetings within your calendars.
If managing remotely, you need to have people on your team who are proactive about reaching out via Slack, Zoom, etc. It's going to be a challenge to have people on your team who only connect with you when you add time to their calendar. I've always found it's in these cases where people's work may have veered off track.
Get obsessed with both your meeting cadence and quality of your meetings. When managing remote teams, your meetings become a lot more important. It's one of the few times you'll have everyone together. Make sure you have a tight agenda and get all the information you need. Take notes so you can follow up with individuals directly with feedback & questions. If your meetings are ineffective, you'll create more of them and suck up your team's time, which would be better spent doing work.
Create processes that help you track your team's work, but don't make them so cumbersome that they become a pain for people to follow. I talk a little about how one of my teams tracks progress using 'Growth Scorecards' here.
If you're an employee being managed by someone remotely, as per above, be proactive, don't just wait for your manager to connect with you, slack them for feedback, send them a Loom video with an update, ask to jump on an unscheduled Zoom to brainstorm a problem. I've always found people who do things like this are more successful in a remote environment.
Lastly, try to find opportunities to speak with your team about things other than work. A simple example of this is, as part of our weekly 15Five report, we ask the team what they're doing for the weekend. It can help start discussions that aren't focused on metrics and work. They're incredibly important.
5. Get proficient at the mute on / mute off game
Lastly, but maybe most importantly, when on a remote meeting, please, for the love of God, mute yourself when others are speaking :) Especially if your at a coffee shop when people around you are talking, baristas are grinding espresso beans, and Bob Marley is playing on the loudspeakers.
I've been in so many meetings where someone is talking over the noise of tap, tap, tap, tap, as someone furiously bashes away at their keyboard!
Over the years I've become extremely skilled at using the mute button during large remote meetings to transition between when I'm talking and not talking, I recommend anyone working in a remote environment does the same :)
If you have questions or would like to talk more about remote work, please connect with me on LinkedIn, I would love to chat more.
Topics: Growth