One of the hardest things about a growing company is team structure. There is a lot of potential upside and downside in the decisions you make around how you group different skill sets together.
How we market to our audience is going to continue to change and evolve over the coming years, and this should be reflected in how you set up a team for success.
Who is responsible for more chats initiated on your website, or Facebook messenger, or Slack?
Who is responsible for increasing engagement rates across all of your video assets (set to account for 80% of all consumer internet traffic by 2019)? Who is your companies voice across podcasts (a content format Google wants to double listeners to over the next 24 months)?
For this post, I want to look at how content marketing teams could be structured to gain leverage over competitors. A week back I posted the following update to LinkedIn advocating for companies to merge their content and SEO skills onto the same team.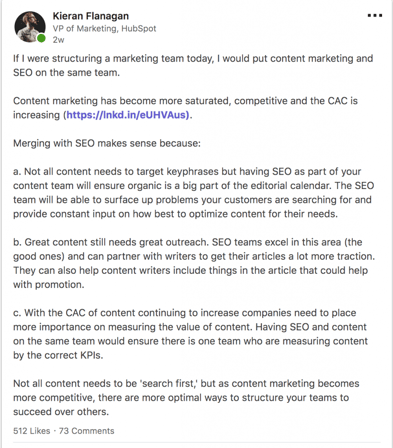 A lot of people agreed with the overall idea. Some thought I meant that content and SEO should be on the same 'group,' as in, they would be separate teams, but report up to the same manager. I agree with that.
But, my idea was to take it a step further and where it makes sense, have them be the same 'team.'
Here is what I meant, you would have the roles below, dependent on the size of your team, you could have someone fulfilling multiple functions, or you could have a dedicated person/persons per role type.
1. Editorial Strategist
Have someone who owns the editorial calendar. They excel in speaking to customers, learning about their problems, and knowing what content to produce to help solve those problems.
However, they also have expertise in keyword research and can gather information on what their audience is searching for help with online. They would have real expertise in this area. They would be able to bucket keywords into topics and stack rank them by priority based on how difficult they are to rank for, how relevant they are to your brand, the potential traffic available for that topic.
2. Content Writers
You would have a content team who could create both POV (point of view content) and search-driven content.
POV is thought leadership around topics your brand wants to be relevant for and have a voice around. You want to have real opinions around these to create fans, people who feel the same way as you.
Usually, that means you'll also have some detractors, people who think you're wrong, but the worst place to be is in the middle.
Search-driven content is what will help you get more traffic from search engines. A lot of content writers incorrectly assume that doing this will lower the quality of their content and that it's just an exercise of adding needless keywords to an article.
That's not the case. Great content writers can blend the learnings from keyword research seamlessly into content. Better yet, given they also understand how search engines work, they can better structure content for things like Google answer boxes and other changes the platform may throw at them.
3. Content Optimization + Promotion
These are separate in the graphic above, but I tend to think of them the same way. You need people who understand how to optimize content for distribution channels.
The style and format of content you create for Facebook, or Youtube, is going to be different from what you create on a blog. You want people who can provide recommendations or content that will better optimize it for the distribution channel you want to use to promote it.
Lastly, you also want people who can take the best content and promote it through those distribution channels.
A lot of the comments I got back on this topic mentioned technical SEO and how it didn't fit into this team. I agree it doesn't fit perfectly into the structure; it's focused on optimizing your infrastructure for search.
I can still see it being on this team if you have a manager who understands both SEO and content, which is required to manage a team like this so that it could work in my opinion.
Hope you enjoyed these thoughts.
Topics: Growth