The makeup of great B2B marketing teams has changed over time.
The popularity in self-serve, the shift to publishing, means the talent you need is different.
There are four pillars to what makes a B2B marketing team world-class:
- You need people who can do B2C level customer acquisition for your free and self-serve users.
- You need people who can create the best publication for your industry.
- You need people who can do contextual/targeted marketing for the people who buy your higher-priced packages.
- You need to invest in ops talent.
Creating a world-class publication for your industry means hiring a world-class content marketing team.
To me, the mission of content marketing teams is to create stories that inspire and educate their audiences.
That content spans across both different content channels (blog, social, email, etc.) and content formats, text, audio, images, video.
You can listen to the full podcast episode on this subject here:
---
What is the Hearts & Minds Approach to Content Marketing?
In HubSpot, the mission of our content is to win the hearts and minds of the people who work in growing companies and could benefit from our platform.
The hearts and minds approach is a way for us to break out our marketing channels, topics, and content formats across two distinct buckets.
It helps us to associate both a primary goal and secondary goals with a channel. It's near impossible for a marketing channel to be successful if it has multiple goals, and they're all weighted evenly.
Winning the Minds
Mind content is education.
Winning the mind is helping educate a person on a topic they're searching for, one that's relevant to a problem your product solves
Winning at education means you need to win at Google for it to have any meaningful impact on your business. That means the primary goal for most mind channels is growth in search traffic and monetization of that traffic.
The primary input is going to be data from keyword research. You'll also likely look at the intent of those keywords to ensure you feel confident they'll lead to leads or signups for your product.
Dependent on the domain authority of your website, you may also look at something like the competition for those keywords to understand if you could rank for them in Google.
We think of winning the minds as helping someone educate themselves on a topic. That means the primary goal behind marketing channels like our blogs, Academy website, and other educational mediums should be increasing organic traffic and generating demand from that traffic.
It doesn't mean these channels can't have any goals. For example, a companies blog might have a variety of goals. The below is an excellent overview of how we view our blogs at HubSpot. It was put together by Karla Cook, who manages the strategy for all of our blogs.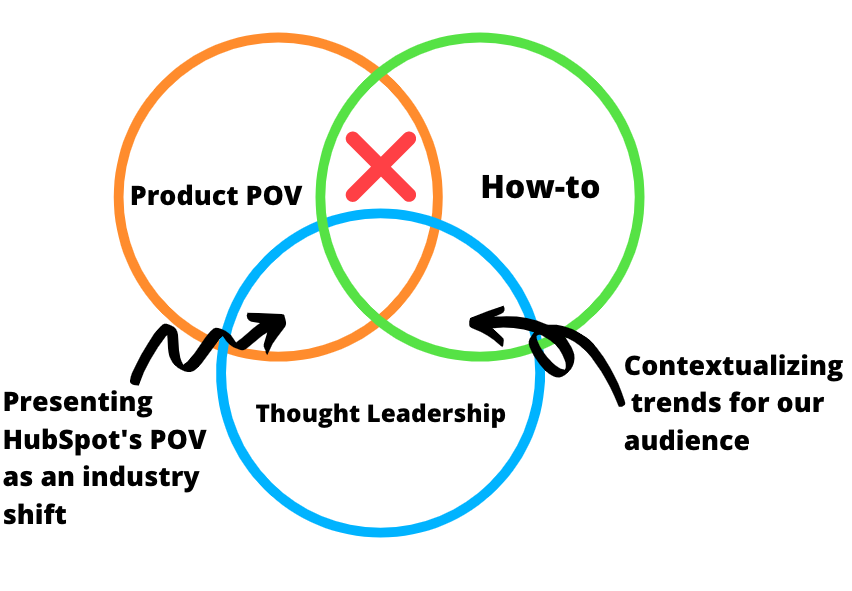 The point of having a primary goal is even if we exceed expectations on our other goals, our different blogs won't have a meaningful impact on our business unless we can be successful against the primary goal.
In our case, we know we need to win at the 'how-to' circle.
Winning the Hearts
Winning hearts is inspiring.
Winning the hearts is helping to inspire a person on a topic they care about, and one that's relevant to a subject relevant to your brand.
But wait, what kind of content are we talking about? Is this brand, positioning, or copy?
In our episode with Joel Klettle we covered the differences between each of those things:
- Brand is the big idea
- Positioning is how you differentiate that idea and position it for your audience.
- Stories/Copy is how you message it to your audience.
It's hard to win at heart content unless you've developed a clear point of view around both your brand and positioning.
Whereas we had one primary input to mind content, with heart content, your inputs can be a lot more varied:
- Engagement metrics (text, audio, video, images)
- Brand themes (set quarterly)
- Product launches
There are obvious channels that work better for this kind of content, like social media, podcasting, and other mediums where discovery isn't tied to what the person is searching for.
The challenge with heart content is, the entire process isn't as easy as mind content. The inputs are more varied, they're less precise, so it takes time to understand what appeals to your audience, and it's hard to measure.
In our episode with Garrett Mehrguth, we talked about how analytics is holding SaaS companies back. Companies are afraid to invest in things they can't measure.
But these stories are a critical part of growing a successful brand. Your brand is the sum of:
- The stories you tell
- The way people experience your product
- The way people experience your company
Investing in heart content is not a nice to have; it's a must.
Thinking about your content marketing strategy as both hearts and minds help to ensure you're approach to content marketing delivers on its vital mission - to educate and inspire your audience.
Topics: content marketing, Podcast, Swipefile